Current Mailer Projects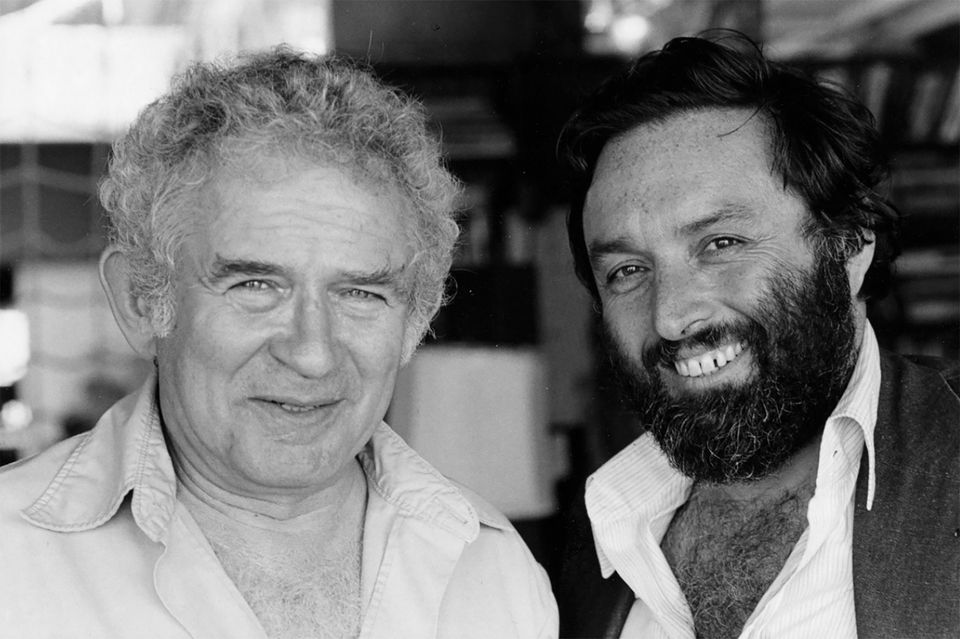 We now have a list of current and upcoming Mailer projects, thanks to J. Michael Lennon.
---
Oxford University Press Mailer Bibliography (2022), compiled by Maggie McKinley.
The Naked and the Dead, 75th anniversary edition, includes three additional prefaces and 23 wartime letters to wife Beatrice and parents; edited by J. M. Lennon (Library of America, January 10, 2023). 800 pp. To commemorate the centennial of Norman Mailer's birth and the seventy-fifth anniversary of the publication of his blockbuster debut, The Naked and the Dead & Selected Letters 1945–1946 will include not only the novel itself but a selection of twenty-three letters (all but four from Mailer to his first wife, Beatrice) written during his wartime service and its immediate aftermath. The Naked and the Dead, nearly universally praised upon its publication in 1948 as an achievement inviting comparison with Tolstoy, is not just a monumental war novel but also a powerful antiwar novel that engages with the nature of power, the conflicts within a massive bureaucracy like the American military, and the imperialist and authoritarian urges present on the American side as the Cold War was about to emerge. It draws heavily and ambitiously on literary precedents such as Dos Passos's U.S.A. trilogy and Melville's Moby-Dick. Its influence can be detected in near-contemporary novels such as From Here to Eternity and onward through Joseph Heller's Catch-22 and war novels by Tim O'Brien and Denis Johnson.
Norman Mailer in Context. 34 essays by different hands on all aspects of Mailer's life and art, edited by Maggie McKinley, president of Mailer Society. 400 pp. with introduction, notes, index, and extensive bibliography (Cambridge University Press, 2021). This volume offers new insight into the breadth of contexts that inform Norman Mailer's body of work. It examines important literary, critical, theoretical, cultural, and historical frameworks for Mailer's writing, highlighting the ways his work reflects the concerns of twentieth and twenty-first century America. This book traces Mailer's literary influences; his contributions to a variety of literary genres; his participation in the American political sphere; the philosophical, religious, and gendered contexts that shape his work; and the iconic American figures he profiled. The book concludes with reflections on Mailer's literary and cultural legacy, emphasizing his advocacy for literary freedom and the contemporary resonance of his work.
Along Heroic Lines by Christopher Ricks. Contains long essay, "Norman Mailer: Just Off the Rhythm" (Oxford University Press, 2021). Christopher Ricks brings together new as well as substantially augmented critical essays across a wide range. Several derive from his term as the Professor of Poetry at the University of Oxford, when his inaugural lecture engaged with the illuminatingly puzzled relations between poetry and prose. Comparison and analysis (the tools of the critic, as T.S. Eliot insisted) are enlivened by imaginative pairings: of Samuel Johnson with Samuel Beckett, of Norman Mailer with Dickens, of Shakespeare with George Herbert, or of secret-police surveillance in Ben Jonson's Rome with that of Carmen Bugan's Romania. Along Heroic Lines devotes itself to the heroic and to 'heroics' (Othello cross-examined by T.S. Eliot; Byron and role-playing; Ion Bugan, political protest and arrest). This knot is in tension with the English heroic line (Dryden's heroic triplets, Henry James's cadences, Geoffrey Hill's concluding book of prose-poems and how they choose to conclude). All alert to the balance and sustenance of alternate tones that prose and poetry can achieve in harmony.
Mailer TV series. James Gray, director (Ad Astra, The Two Lovers, etc.); based on Lennon's 2013 biography (2023).
The Two Mailers, Off-Broadway play based in part on The Big Empty (2006), by John Buffalo and Norman Mailer. Ronald K. Fried, playwright; Julian Schlossberg, producer. Production delayed due to Covid.
Norris, play by Bonnie Culver, based on the memoir, A Ticket to the Circus (2010) by Norris Church Mailer. One-woman show, starring Anne Archer; directed by Michelle Danner. Streaming June 2022.
Mailer documentary, Showtime/Triage production; Jeff Zimbalist, director (2023). Center Drive Media's production companies Triage Entertainment and Lando Entertainment have collectively produced more than 4,000 hours of premium, primetime programming, distributed in over 100 countries. CDM's early 2022 content slate includes a multi-hour documentary series on the Route 91 Harvest Music Festival in Las Vegas, which in 2017 became the site of the deadliest mass shooting in American history, for Paramount+/CBS; the iconic paranormal series Sightings, which will relaunch with a series of single-topic documentaries, in partnership with CBS Productions; original comedy specials for Netflix from Sebastian Maniscalco, Gabriel Iglesias and Taylor Tomlinson; a new, supersized season of Food Network's highest-rated series, Tournament of Champions, hosted by Guy Fieri; a feature documentary on the controversial literary giant, Norman Mailer; and four new series expansions of The Baking Championships for Food Network.
The Mysterious Country: The Grace and Fragility of Democracy, J. M. Lennon and J. B. Mailer, editors. Mailer's commentary on the challenges to democracy in the U.S. (Skyhorse Publishing, January, 2023). 289 pp. From his bestselling first novel, The Naked and the Dead, to his last work, American democracy was a lifelong project for Norman Mailer. It was his grand theme. Nearly all of his books touched on the pros and cons, the strengths and weaknesses, the grace (to use his word) and fragility of the American experiment as well as the threats to it—from autocratic leaders and a complacent citizenry, from violent protest and radical conservative assaults on it, from "soft fascism" and the ills of racism and poverty. In the sharp and impassioned language of a political Cassandra and with the eye of a novelist and journalist, he explored the underlying psychological, social, and economic causes of the country's fragile polity and offered urgent prescriptions for its reinvigoration. The Mysterious Country is a carefully selected collection of Mailer's most incisive—and sometimes remarkably prophetic—commentary on American democracy and what must be done to safeguard it. The anthology draws on both published and unpublished sources, from Mailer's great works of narrative nonfiction and novels as well as essays, interviews, letters, speeches, and talk show appearances. It includes pungent remarks on every president from FDR through George W. Bush, as well as correspondence with several. Throughout, what shines through is Mailer's passion for our democratic project—as well as the freedom that comes with it—and a keen awareness of its potential for failure, its virtues, and what is required of us to keep it intact.
Harlot's Ghost (adaptation; Mark Gordon, producer, Eric Rochant, showrunner) TV series, 2023).
Jack and Norman, by Jerome Loving. Nonfiction account focused on Mailer's relationship with Jack Abbott (Thomas Dunne/St. Martin's, 2017). 240 pp. Film version in the works, with Colin Firth as Abbott. This is the story of an author and his apprentice. It is the story of literary influence and tragedy. It is also the story of incarceration in America. Norman Mailer was writing The Executioner's Song, his novel about condemned killer Gary Gilmore, when he struck up a correspondence with Jack Henry Abbott, Federal Prisoner 87098-132. Over time, Abbott convinced the famous author that he was a talented writer who deserved another chance at freedom. With letters of support from Mailer and other literary elites of the day, Abbott was released on parole in 1981. With Mailer's help, Abbott quickly became the literary "it boy" of New York City. But in a shocking turn of events, the day before a rave review of Abbott's book, In the Belly of the Beast, appeared in The New York Times, Abbott murdered a New York City waiter and fled to Mexico. Eerily, like Gary Gilmore in Mailer's true-life novel, Abbott killed within six weeks of his release from prison.
Fearless: Five Jews Who Changed American Culture (Leonard Bernstein, Betty Friedan, Norman Mailer, Mel Brooks, Pauline Kael) by New Yorker essayist, David Denby (Holt, likely 2024).
In Another Place: With and Without My Father, Norman Mailer by Susan Mailer, Northampton House Press, 2019. Memoir translation (Random House/Penguin Chile, November, 2022). Norman Mailer, Susan Mailer's father, was among the most celebrated, talented, and controversial writers of the 20th Century. The Naked and the Dead (1948), inspired by his experience in World War II, was a bestseller and made him famous at the age of 25. Notoriously combative and egotistical, her father enjoyed a good fight both physically and verbally. Whether cheered or booed, Mailer was front and center in America's cultural battles for more than 50 years. He married six times and was father to nine children. Susan, born in 1949, is the eldest. Susan's parents separated when she was a baby. She grew up shuttling between her mother's home in Mexico and New York. Later she would marry a Chilean activist, spending the majority of her adult life in Chile, where she is a practicing psychoanalyst. In Another Place tells the story of her intense and complex relationship with her father, her five stepmothers and nine siblings, and the joys and pains of being part of the large Mailer clan. It is a tale of separation, and of the rewards and struggles of living in two very different cultures. Of being someone who belongs everywhere and nowhere, always longing for a life In Another Place.
Helltown: The Untold Story of a Serial Killer on Cape Cod by Casey Sherman (Sourcebooks, July 2022). Mailer's links to the story of murderer Tony Costa, in late 60s Provincetown, are discussed in this nonfiction book. 1969: The hippie scene is vibrant in Provincetown, Massachusetts. Long-haired teenagers roam the streets, strumming guitars and preaching about peace and love... and Tony Costa is at the center of it all. To a certain group of smitten young women, he is known as Sire―the leader of their counter-culture movement, the charming man who speaks eloquently and hands out hallucinogenic drugs like candy. But beneath his benign persona lies a twisted and uncontrollable rage that threatens to break loose at any moment. Tony Costa is the most dangerous man on Cape Cod, and no one who crosses his path is safe. When young women begin to disappear, Costa's natural charisma and good looks initially protect him from suspicion. But as the bodies are discovered, the police close in on him as the key suspect. Meanwhile, local writers Kurt Vonnegut and Norman Mailer are locked in a desperate race to secure their legacies as great literary icons―and they both set their sights on Tony Costa and the drug-soaked hippie culture that he embodies as their next promising subject, launching independent investigations that stoke the competitive fires between two of the greatest American writers. Immersive, unflinching, and shocking, Helltown is a landmark true crime narrative that transports us back to the turbulent late 1960s, reveals the secrets of a notorious serial killer, and unspools the threads connecting Costa, Vonnegut, and Mailer in the seaside city that played host to horrors unlike any ever seen before. New York Times bestselling author Casey Sherman has crafted a stunner.
Mailer at 100: Conversations, Correlations, Confrontations Essays by Robert Begiebing on Mailer and Whitman, Jung, Emerson, Didion,  Millet, Hemingway, Joseph Ellis (LSU Press, 2023). Norman Mailer at 100 celebrates the author's centenary in 2023 and the seventy-fifth anniversary of the publication of his bestselling debut novel, The Naked and the Dead, by illustrating how Mailer remains a provocative presence in American letters. Novelist and Mailer scholar Robert J. Begiebing lays out how this polymath author's work makes vital contributions to the larger American literary landscape, encompassing the debates of the nation's founders, the traditions of Western Romanticism, and the juggernaut of twentieth-century modernism. The book includes six critical essays, two creative dialogues featuring Walt Whitman and Ernest Hemingway, and Begiebing's own interview with Mailer from 1983. Each piece pairs Mailer with a critical interlocutor whose work offers telling revelations about his ideas and art, among them Ralph Waldo Emerson, Carl Jung, Kate Millett, and Joan Didion. By encouraging a reconsideration of his career from its beginnings to his final books in the early twenty-first century, Norman Mailer at 100 forges a new path toward appreciating the author's achievements that underscores the extent to which his work can help us confront the challenges of today.
The Shores of Bohemia: A Cape Cod Story, 1910-1960 by John Taylor Williams (Farrar, Straus Giroux, May, 2022). Their names are iconic: Eugene O'Neill, Willem de Kooning, Josef and Anni Albers, Emma Goldman, Mary McCarthy, Edward Hopper, Walter Gropius—the list goes on and on. Scorning the devastation that industrialization had wrought on the nation's workforce and culture in the early decades of the twentieth century, they gathered in the streets of Greenwich Village and on the beach - fronts of Cape Cod. They began as progressives but soon turned to socialism, then communism. They founded theaters, periodicals, and art schools. They formed editorial boards that met in beach shacks and performed radical new plays in a shanty on the docks, where they could see the ocean through cracks in the floor. They welcomed the tremendous wave of talent fleeing Europe in the 1930s. At the end of their era, in the 1960s, as the postwar economy boomed, they took shelter in liberalism when the anti-capitalist movement fragmented into other causes. John Taylor "Ike" Williams, who married into the Cape's artistic world and has spent half a century talking about and walking along its shores with these cultural and political luminaries, renders the twisting lives and careers of a generation of staggering American thinkers and creators. The Shores of Bohemia records a great set of shifts in American culture and the ideas and arguments fueled by drink, infidelity, and competition that made for a fifty-year conversation among intellectual leaders and creative revolutionaries. Together they found a community as they created some of the great works of the American Century. This is their story. Welcome to the party!
Whalen, biography of Mary Oliver, including material on Mailer and his assistant Molly Malone Cook, Oliver's partner. Penguin, forthcoming.
David Mikics, Mailer's Battles, now seeking a publisher.
David Bromwich, Norman Mailer. Yale Jewish Lives series, estimated 2024.
Mailer's 1954-55 Marijuana Journal: "Lipton's," edited by J. Michael Lennon, Jerry Lucas, Susan Mailer (Mailer Society, 2023). Includes Mailer's correspondence with psychologist-author Robert Lindner. Total length approximately 75,000 words.
Mailer Remembered (working title), limited edition of approx. 100 short memories of Mailer by friends, family and admirers. Edited by G. R. Lucas and Maggie McKinley (Mailer Society, 2023).
Mailer's Last Days: New and Selected Remembrances of a Life in Literature. Memoir/essays by J. Michael Lennon (Etruscan Press, November 1, 2022). This book of essays by Norman Mailer's biographer, Dr. J. Michael Lennon, collect personal and literary reminiscences, insights, and investigations from the last half century. Through the rising action of his life in literature, Lennon's remembrances track the influence not only of his literary pater familias, Norman Mailer, but his actual father, a booze-bitten blue-collar bibliophile with his own reputation for genius, and how together these mentors forged and focused the 20/20 literary vision Lennon takes to the work of some of the greatest writers of the Twentieth Century, from Baldwin and Bishop to Didion and DeLillo and, not least, Mailer himself.
Love of My Life by Barbara Mailer Wasserman, 15 memoir narratives (Arbitrary Press, 2021). Her brother, author Norman Mailer, became one of the 20th Century's most celebrated and controversial literary figures. Now 94-year-old Barbara Mailer Wasserman shows that she's got writing chops of her own. Whether taking delightful revenge as a kind of proto-Carrie Bradshaw on a rude, real-life Randolph Churchill, or joining the Spanish resistance to smuggle fascist dictator Francisco Franco's political prisoners across the French border, or nonchalantly greeting the news that her brother's novel, The Naked and the Dead, has overnight leapt to the top of bestseller lists, Wasserman is openhearted, touching, whimsical, self-revealing and always acutely conscious of her good fortune.
Mailer Review, v. 16, Mailer Centenary Issue. Editor, Phillip Sipiora (2023).
ARTE (European public television) documentary on Mailer, in production. Gero von Boehm, producer (2023).
You Owe It to History: The Lies I Told to Get the Truth. Memoir by Lawrence Schiller. Introduction by David Margolick. Now seeking a publisher.
Dune Shacks of Provincetown, photographs by Jane Paradise. Foreword by Michael Mailer. (Schiffer Publishing, August 28, 2022). Step back in time and into a place of refuge and renewal. This insider's tour of the dune shacks of Provincetown, Massachusetts, combines photos and text to bring to life the world of these rustic structures scattered across the untamed landscapes of Cape Cod National Seashore. Nearly 100 color photographs explore exteriors and interiors of the 19 shacks, as well as the breathtaking dune landscapes and ocean that batter and beautify them. Accompanying quotations share stories of the eclectic people who stayed in and cared for these places of solitude and creativity, including Henry David Thoreau, Ann Patchett, Tennessee Williams, Mary Oliver, Norman Mailer, Marsden Hartley, and Josephine Del Deo. This photographic journey is sure to inspire and evoke wanderlust in us all.
The Fight by Norman Mailer. Edited by J.M. Lennon and Nina Wiener. Conceived by Lawrence Schiller. Photographs by Neil Leifer and Howard Bingham. Heavily illustrated. Trade edition of 2018 oversize edition. (Taschen Books, June 2022). On October 30, 1974, in Kinshasa, Zaire, at the virtual center of Africa, two boxers were paid five million dollars apiece to confront each other in an epic match. One was Muhammad Ali, who vowed to reclaim the championship he had lost. The other was George Foreman, who was as taciturn as Ali was voluble and who kept his hands in his pockets "the way a hunter lays his rifle back into its velvet case." Observing them both was Norman Mailer, whose grasp of the titanic battle's feints and stratagems―and sensitivity to their deeper symbolism―made his 1975 book The Fight a masterpiece of sports writing. Whether analyzing the fighters' moves, interpreting their characters, or weighing their competing claims on the African and American souls, Mailer was a commentator of unparalleled acumen―and surely one of the few intrepid enough to accompany Ali on a late-night run through the bush. Through The Fight he restores our tarnished notions of heroism to a blinding gleam, and establishes himself as a champion in his own right. Over four decades after its original publication, this edition of The Fight has been introduced and abridged by Mailer scholar J. Michael Lennon and illustrated for the first time with principal photography by the two men who captured Ali and Foreman in the ring and in private like no one else: Neil Leifer and Howard L. Bingham. Widely considered to be the greatest sports photographer of his generation, Neil Leifer's vibrant color coverage dominates from ringside. It also serves as a living testimony to the pageantry, sheer physical power, and deep psychological interplay of the fighters, their camps, and their controversial host, Zaire's President Mobutu Sese Seko. Behind the scenes, meanwhile, Howard Bingham was Ali's constant companion, documenting his every move from the moment he stepped off the plane in Zaire, his daily training regime, right through to the dressing room tension as he prepared to face Foreman once and for all. Together with pictures from other photojournalists, reproductions of Mailer's original manuscript pages, and additional visual documentation of the media frenzy surrounding the "Rumble in the Jungle," the result is a dazzling tribute to The Champ and a vivid document of one of the most epic, adrenaline-laced events in sporting history.